Sharon Annie Heilbrunn is an Emmy-nominated television, print and radio reporter, as well as a host, anchor and "one-woman band" journalist.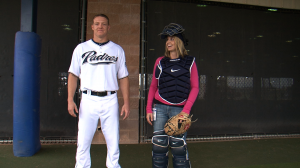 Currently, she covers the San Diego Chargers and Padres.
Besides sports and entertainment, Sharon has experience reporting on breaking and local news as well as politics and has worked with The San Diego Union-Tribune, FOX Sports, NPR, NBC and MTV in New York City, among other media organizations.
She is available for reporting and hosting opportunities. Please contact her at:
sharon (at) sharonheilbrunn (dot) com