(Disclaimer: This is the part of the process where I brag about myself in third person.)
Annie Heilbrunn is an engaging sports personality who gets the game AND, easily invites the viewer to experience it. A female voice in the sports world who is likable, compelling, talented, witty, smart and relatable. She is "turnkey" — meaning she can do it all. Annie hosts, anchors, reports, shoots, edits and creates. She can do a live-shot and enterprising story one day and then get on-camera to go surfing with an athlete the next. Annie delivers information with authority but also has a dynamic personality. She isn't afraid to step outside the box.
Currently, Annie is a correspondent on NBC's "Football Night in San Diego" show and also reports and hosts for Fox Sports San Diego. Previous to that, she spent five years with The San Diego Union-Tribune covering the Chargers and Padres as a television, video and print reporter.
In addition, Annie worked as the co-host of "The Sports Page with Acee and Annie" — a live, daily local sports show, for several years.
Not only does Annie report the news on the San Diego Chargers and Padres, but she also created a miniseries called "Overtime With Annie" where each week, she takes a player OFF the field to showcase his hobbies, passions and personality. Through her solid relationships, Annie is able to get exclusive content and accessibility to players and the lives they lead outside of the locker room. In addition, she delivers live hits for the show and reports from Chargers games.
**********
After graduating from San Diego State University with a degree in journalism, Annie moved to New York City to work with MTV Networks. There, she worked on Total Request Live and interviewed celebrities live on-air — including Justin Timberlake (who gave her a hug).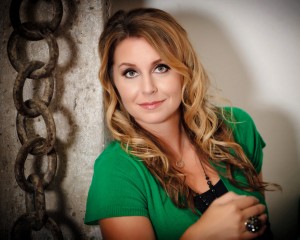 Upon returning to San Diego, she pursued a career in print journalism as a staff writer with The San Diego Union-Tribune. It was there that Annie crafted her writing and reporting skills, covering everything from breaking news to high-profile features. She is particularly grateful for this period in her life, as working for a daily metropolitan newspaper gave her a crash course in deadlines, accuracy and journalism ethics. Plus, she got to work under some amazingly tough editors.
In January 2009, Annie left the Union-Tribune after being accepted as a Jacobs Fellow with KPBS, a nonprofit radio and television station. Under the Jacobs Project for Reporting Excellence, she was able to explore innovative ways of storytelling and reporting across various platforms, including web, TV and radio. She took to the "one-woman band" style of reporting and quickly carved herself a niche with the station's weekly TV show, "San Diego Week," as a digital reporter. In that role, Annie produced meaningful reports on community, political and social issues. After leaving KPBS, she reinvented herself with the Union-Tribune as a multimedia reporter.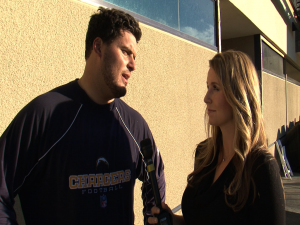 Annie was the first person in the company to transition herself from a print reporter to a full-time broadcast journalist. She helped co-create a weekly series called "Chargers Roll" that featured in-depth interviews with the team's most high-profile players, and her "Out and About" videos — which feature players and fans — are some of the most popular videos on the Union-Tribune website.
Annie isn't afraid to push boundaries and is known for delivering everything from witty, entertaining interviews to stories and conversations with athletes that are emotional, revealing and sincere.
You can find her resume here.